The Car Crash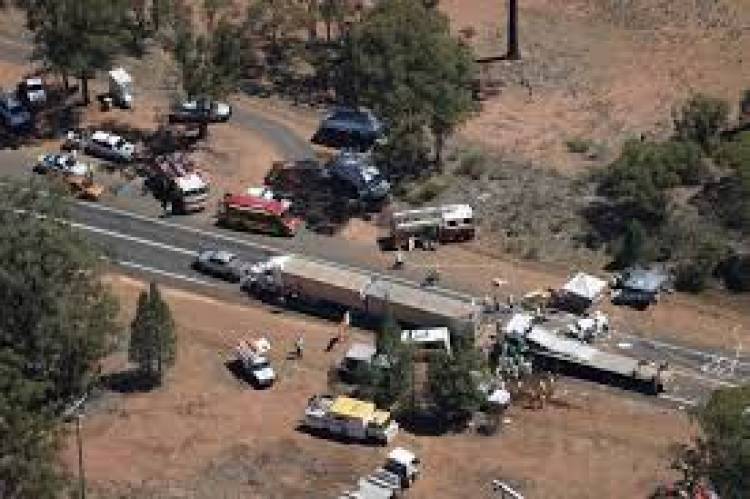 The Car Crash
He swerved the car in speed
Maneuvering from the back
Of a truck
To the front of another truck
On the next lane
The steering failed
To adhere to his command
He turned the steering
But it kept going the other way
The speed didn't increase
But it also didn't slow down
The car became unstoppable
He stepped on the brake suddenly
The car flew
It tumbled twice
The feeling was strange
She felt a big balloon
Wrap around her
It wasn't the air bag
The car doesn't have one
Seat belts strapped down
The couple in the front seats
The two little boys
At the back
Hid under the seats
The young man
That begged for ride
Was fast asleep
At the end of the second tumble
The car hit the wall
It landed on it roof
Everything stopped
There was complete silence
Each one thinks
He is the only one alive
It was a fatal accident
That changed her life forever
--------------------------------------------------------------------------------------------------------------------------------
The Survivors
She wriggled out
Through the broken window
Stood up and saw the situation
Her hands went up
On her head
She screamed!
Thinking she was the only survivor
Then she saw the dripping blood
From the back
It was the young man
His head was broken
The blood was from his skull
The little boys started crying
"Mummy!Mummy!!Mummy!!!"
She pulled them out
Through the window
The bleeding young man
Was also out, holding his skull
Few people had gathered
To help
She pointed to the remains
Of the car
"My husband is still inside"
They tried to pull him
Through the window
Like the rest of them had done
He could not move
Suddenly he became heavy
His limbs and spine
Had become lifeless
Only his head was alive
"Help me! Help me!"
Was all he could muttered
To help him out
The car was over turned
Back on its tyres
Oh my!
That was a sight to behold
With her husband
Still in the car
A commercial bus
Had parked to help them
He was carried to the bus
The bleeding man
The little boys
And the woman
All got to the hospital
With the help of the bus
=========================================================================
The Passing
After three weeks
At the hospital
He demanded to go home
There was no improvement
He was paralyzed
EVERYTHING had to be done
For him
He was home for only a week
And he went into a comma
He was taken back
To the hospital
He came out of the comma
After three days
He was not normal again
His sight and speech
Had gone
He struggled to speak
But he couldn't
She saw the tears
Flow freely from his eyes
He went back
Into unconsciousness
Death took him quietly
Making his boys fatherless
And his woman a widow
Iku bolaje (Death stung harshly)
Things had never been same
Since he passed on
Abike, 2017
Iyabode Abike
@iyabooladapo